Happy Holidays
"Best Wishes"

Gift Set
Celebrate the Holiday Season with our Happy Holidays - Best Wishes - Chocolate Bar Favor Gift Set. Under each one is a delicious HERSHEY'S® milk chocolate bar wrapped in GOLD foil. Give this Sweet Holiday gift to family, friends, co-workers and teachers this Holiday Season. Our Happy Holiday Gift Sets are available in 8, 12 0r 24 bars to a set., remember to order early as our Happy Holidays Candy Bar Wrappers are very popular. Let our design team personalize a gift set for you call us today, see sample set below. Call 908-769-6825 today - More samples on our website.

---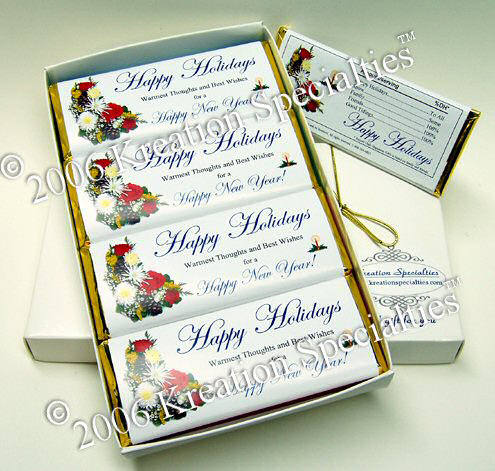 Happy Holidays Chocolate bar - Gift Set -1
"Warmest Thoughts and Best Wishes...
...for a Happy New Year"
Product ID
GIFT-SET-H - 8 only *$19.95 + s/h
GIFT-SET-H 12 only *$24.95 + s/h
GIFT-SET-H- 24 only *$46.95 + s/h

Top of Page
We Do It All from design to printing to Wrapping - Packing and Shipping!

Never a charge for in stock foil color.

Silver - Gold, - Dark Blue - Medium Blue
Pink - Red - Green - Purple or Copper

Our price includes Chocolate Bar
Foil and Wrapper!

Your order comes completely ASSEMBLED ...
...nothing for you to do!

Call 908-769-6825