Send something different as a gift for that special occasion or event. Here at Kreation Specialties we have the PERFECT gift - a delicious Edible Candy Tree. Our Edible Candy Tree is a great solution to all your personal and corporate candy gift giving needs! We make different Candy Centerpiece Trees such as our Unique Mini Chocolate Bar Tree, Hershey's® Candy Kisses® Tree and many more. Each candy centerpiece tree holds approximately 2 lbs of candy. All Candy Trees are gift wrapped in a clear cellophane bag with colorful curling ribbon and gift card. Each tree is approximately 14 inches high by 8 inches wide on a wood base for support, the color on wood base will vary.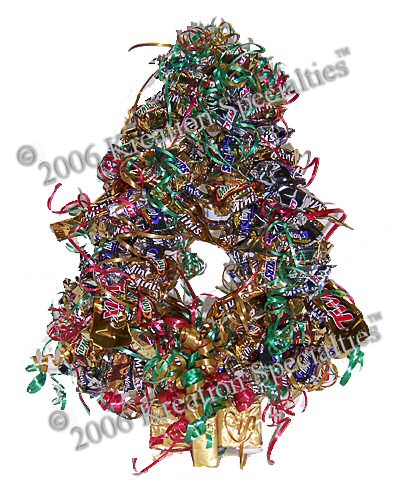 Mini Chocolate Bar Tree
Chocolate Bar Centerpiece Tree
Do you know someone who loves Chocolate? If so how about one of our Unique Mini Chocolate Bar Trees! The perfect gift to give for any occasion, it can be placed on a desk at an office, or just about any place. Our 14" high Chocolate Bar Candy Tree is on wood base for support, color of base varies, wrapped in a clear plastic bag with colorful holiday ribbon. The Mini Chocolate Bar Tree is filled with a mixture mini *chocolate bars.

*Some chocolate bars may contain peanuts and or processed in a facility that also processes peanuts"
Product ID - CHOCBARTREE
$46.95 + s/h

Phone orders only
Standard 2-7 Day Ground Shipping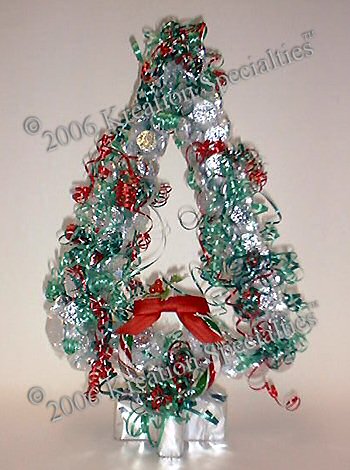 Candy Kisses

®

Holiday Tree
Kisses

®

Holiday Centerpiece Tree
Our very popular Hershey's® Candy Kisses® Tree will make a wonderful addition to your Christmas Holiday celebration as a centerpiece for all to admire. Each Hershey's® Candy Kisses® Tree is aproximately 14 inches high by 8 inches wide athe base of the tree. Included is a candy cane wreath -"subject to avaiability- may be replaced with candy canes" that is edible or can be put on your own tree at home as a decoration. Can be placed on a desk at an office or just about any place as a centerpiece. Each tree is wrapped in a clear plastic cello bag with colorful holiday ribbon. Gift enclosure card included let us know what to add on card, 3 line maximum for gift card

Product ID - CKISSTREE-CC
$39.95 + s/h

Phone orders only
Standard 2-7 Day Ground Shipping

Top of Page